Corrugated bamboo roofing sheets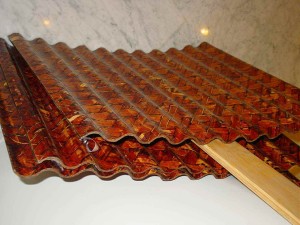 Corrugated bamboo roofing sheets (CBRS) are an excellent alternative to corrugated metal, plastic or asbestos roofing sheets. They are produced from a natural and sustainable resource and can be used to cover homes, storage facilities, animal pens and many other temporary or permanent structures. CBRS is made from several layers of woven bamboo mats. These woven mats are impregnated with an adhesive resin and pressed together between two specially designed corrugated pressing plates. The sheets can be produced in a range of sizes to suit particular requirements and can easily be trimmed for special applications.
The main materials used are bamboo slivers to produce the mats, and adhesive resin in which to soak the mats. A resin applicator is needed, and a drying chamber is optional. Corrugated pressing plates for the hot press are of course essential. The process of producing CBRS involves 6 steps:
Bamboos are split into thin slivers
Slivers are woven into mats
Mats are soaked in adhesive resin
Mats are allowed to drain and dry
Mats are glued together under high temperature and pressure
Sheets are trimmed to shape
PRECAUTION
An important precaution to be taken in making mats for BMCS production is that slivers with the glossy (epidermal) layer should be avoided as they are resistant to bonding. Such slivers can however be used in basketry etc.
The moisture content (m.c) of freshly woven mats is in the range of 40% -50%. On drying them in sun, the m.c is generally about 12% – 15%. If transport and or storage is more than one month it is advisable to undertake prophylactic treatment. The simplest and significantly effective treatment for mats, provided they are not exposed to drying, is spraying with 1% solution of mixture of boric acid and borax in the ratio of 1:1. Spraying can be done by hand or knapsack sprayer. This will not have any adverse effect on bonding. The mats should be dried after prophylactic
Main advantages of CBRS
Bamboo roofing sheets are environmentally friendly and a safe alternative to plastic, zinc or corrugated asbestos roofing panels
They have the same standard measurements as conventional corrugated roofing sheets
Bamboo roofs are quieter in the rain and cooler in the sun than conventional metal or plastic sheets. A study has shown that cows in sheds roofed with bamboo yield more milk than those under corrugated zinc sheets because of the cooler environment
Bamboo sheets are durable and strong with excellent internal bond strengths and a high resistance to weathering, fire or insect attacks. • They have an attractive and natural appearance and are easy to work with
Source: slideshare.net
Image Courtesy: guaduabamboo.com