Eco-friendly Boxes made of Palmyra leaf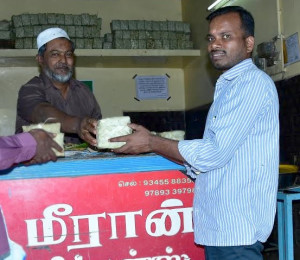 MADURAI: Fifty-seven-year old Abdul Razak is a simple man running a chicken shop near Military Line Mosque in Tirunelveli in Tamil Nadu for over ten years. It was with a heavy heart that he used to pack meat in polythene bags. He was thinking about finding a solution to the indiscriminate use of polythene bag. He felt that it was not right to use polythene bags when so much of awareness about plastic littering was going on.
Fifteen days ago, he switched over to palmyra leaf boxes to give chicken meat to customers. For small quantities, he uses banana leaf and paper.
However, the switchover was not easy because the art of making palmyra boxes – once a cottage industry along Tuticorin and Tirunelveli – has turned dear. Razak finally found some people who make the boxes and ordered in bulk.
Explaining his new method of selling meat in palmyra boxes, Razak says it was an old practice prevalent before the advent of polythene bags. Once upon a time even sweets and snacks used to be packed in palmyra boxes but polythene bags replaced them.
"When stored in palmyra boxes, the meat remains fresh for long hours and the palm leaves smell gives a unique desirable aroma when cooked," he says.
Razak told his son Sahul Meeran, 29, about his desire to find a substitute for polythene bags. Sahul, a chemical engineer working for a pharmaceutical company in Vizag, told his father that non-woven fabric bags were not a solution to polythene bags.
"He roamed around entire Tuticorin coast and Tirunelveli looking out for the artisans making palmyra boxes. He found some people at Tiruchendur and others in Tirunelveli and ordered the boxes. Without his motivation, I would have been still thinking about the implementation part," Razak says.
Meat delivered in palmyra boxes has become an instant attraction in the area and many started supporting the Razak. "Of late there is lot of awareness among people also. They are willing to bring utensils to buy meat. After I have introduced palmyra boxes, a lot of people are keen on using them and traders have asked for such boxes," Razak says.
The father and the son hope that their small venture may be useful to some unknown artisans making palmyra boxes and reintroduce organic items in place of plastic bags.
Razak says the prices of palmyra boxes are not so high and could be replaced for a 50 micron above plastic bag more or less at the same cost. While plastic bags will remain in eco-system for long, palmyra boxes and banana leaves are eco-friendly and Razak is quite happy about it.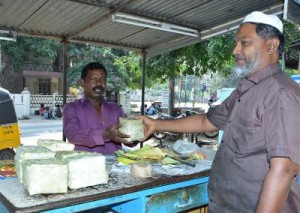 Source:timesofindia.indiatimes.com