The Solar Photovoltaic system installed in this zero energy model building is of 1 kW capacity. The system is designed to support total connected load up to 3 kW.
The power generated is single phase, 230 V 50 Hz which can power 3 kW of connected load (three phase models are also available). The installed capacity of the Solar Photovoltaic System is 1 kW comprising of 10 numbers of 100 W panels each. The solar panels used in the system are thin film amorphous silicon panels, which are highly efficient and least affected by temperature. The solar charge controller used in the system has Maximum Power Point Tracking (MPPT) capability, which tracks the maximum charging current possible through software support.
To provide smooth operation of the system a battery bank is provided with 12 hour @ 50% DOD (Depth of Discharge) backup power (Total 24 Hours).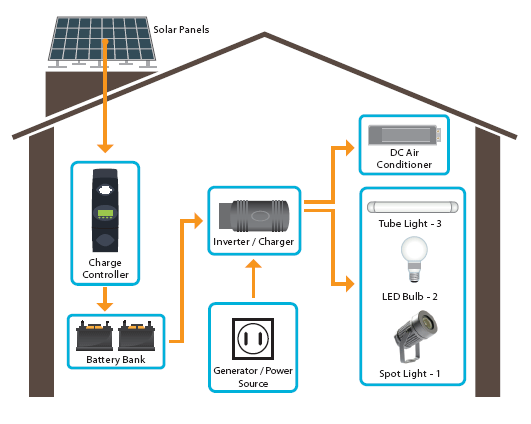 SYSTEM COMPONENTS FEATURES:
Solar Panels (South Korea)
Solar Panel Technology – Amorphous-silicon (A-Si) Thin Films
Model – S 100 E
Solar Module Capacity – 100 W
Number of Panels used – 10 Units
Power Conditioning Unit (Outback USA)
OUTBACK Inverter Model – VFX 3048 E
Inverter Capacity – 3 kW (Highly Efficient – 93%)
Charge Controller – FM 60 – 60 Amps (98.1% Efficiency)
FlexNet DC – Monitoring Device

Displays battery charge status

RTS – Remote temp sensor

For Battery temperature sensing and charging

Mate 2 – Communication device

Programming device for the system

Consists of user friendly LCD panel to display system data
Surge Protector – For protection from surges in the power network
LED Luminaries
High Quality, long lasting energy efficient LED Lighting, imported from South Korea
Battery Backup
Battery Backup Capacity – 400 Ah / 48 Volts
24 hr of backup
CONNECTED LOAD DETAILS:
DC Air Conditioner 1 750 kW
LED Tube Light 2 25 Watt each
LED Bulb 2 7 Watt Each
Spot Light 1 4 Watt
GETWATT, KOREA – Thin film Silicon Photovoltaic modules
Easy to install modules, long-term warranty
Low temperature deposition, low temperature coefficient
Remarkably low consumption of raw silicon material
Guaranteed product quality using verified parts – Junction Box, PV-Cable, Connector, Junction Potting, Back Sheet and Frame Sealing
Assured higher yield compared to Crystalline modules (10-15%)
Works better and efficiently under shaded conditions
OUTBACK, USA – SINEWAVE INVERTER CHARGER
Next generation advanced power management systems
Produces true sinewave AC electricity for stand-alone and back-up power needs
Off Grid models, Grid Tie / Interactive Models
Mobile and marine models
Modular system architecture and ability to increase from 2 kW to 30 kW
Parallel series and 3 phase stacking capabilities
Three phase configuration – option
Sealed and vented models
Non volatile memory
Network communication
High surge power – can handle air conditions and pumps

OUTBACK, USA – CHARGE CONTROLLERS
Industry leading Maximum Power Point Tracking (MPPT) charge controllers
Increases renewable energy yield by up to 30%
Innovative solar harvesting and battery charging – maximize systems potential
Allows higher input voltage up to 120 Volts DC for a balance system voltage of 24, 48 or 60 Volts – reduction in cable cost and losses
Warranty – 5 years
If you are interested to know more about this product or solution, feel free to write back to me, with you Name, Location and Phone Number.  I would ask the technical experts to get in touch with you and help you with your requirement.