First Net Zero Complex in India
Recently I was invited by my client for one of their Project Inauguration.  This project named as "25 KW SOLAR PHOTOVOLTAIC PROJECT" is one of its kind and its something that could be a major milestone not just for the company but it could also be possible begging of a new chapter in the Energy Security Segment, here in Kerala.
With the successful implementation of this project, The Heritage  building complex of  Malanakara Plantations Ltd. becomes the first Office Complex in the Country to be a Net Zero Building.
All the Energy requirements of the Office Complex, which includes 18 tons of Air Conditioning, Computers, Lighting, Ventilation, office equipment, water pumps and a packing machine, is generated  from a Solar Power Plant of 25KW Capacity. With the installation of the Solar Power Plant, the  Office Complex is now disconnected from the Gird and is functioning wholly on its self-generated Solar Power.
This makes the HO of Malankara Plantations Ltd. to be first Net Zero Office Complex in India. The Solar PV System is also capable of selling the excess electricity to the Grid, which also makes the HO an Energy Plus building. The Solar modules are mounted on space frame structure without disturbing the natural form of the building and preserving its heritage status. The System Design, Engineering, Installation and commissioning  of the power plant was executed by TeamSustain, using the most advanced and efficient components available today.
The Solar System installation at Malankara Plantations Ltd. HO, during its life will help save around 1060 Tons of Co2 equivalent Green House gases from being emitted into the atmosphere.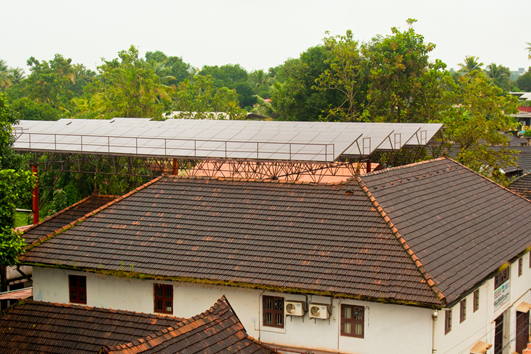 Malankara Plantation Head Office, Malankara Buildings, Kodimatha
Kottyam – 686 039. Kerala, India
If you are interested to know more about this project or if you have a similar requirment, feel free to write back to me, with you Name, Location and Phone Number.  I would ask the technical experts to get in touch with you and help you with your requirement.