Perumbavoor hosts first green wedding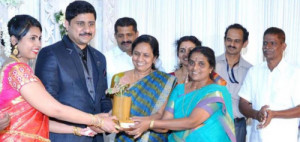 Kochi: A unique eco-friendly marriage function was held at Perumbavoor on Thursday following the district collector's call to implement the green protocol.
The wedding of Rajesh George Joseph and Nissi Mary Joseph, organised at an auditorium in Perumbavoor turned out to be the first green protocol function in the district.
No plastic plates, glasses or bottles were allowed in the function and all the materials used were reusable and eco-friendly. The district administration complimented the newlyweds and their relatives and the couple was given a certificate and gifts from the district administration.
Municipal chairperson Sathi Jayakrishnan, vice chairperson Nisha Vinayan, Suchitwa Mission representative Joshy Varghese and representatives of associations of catering and auditorium also complimented the newlyweds.
The district administration is planning to promote green protocol marriages by giving gifts and certificates to the couple, catering and other service providers.
Source: deccanchronicle.com
Green Protocol set to give wedding parties a plate full of blues
KOCHI: Starting February, the Ernakulam district administration will discourage marriage parties and religious functions from using disposable plates and glasses as part of its go green initiative.
And District Collector K Muhammed Y Safirulla on Friday held a meeting with the auditorium owners, catering service providers and religious representatives in which a decision was taken to implement the 'Green-Protocol'- during marriage receptions and public functions.
According to the Collector, disposable plates and plastic glasses are not environment friendly and people must abstain from using them during parties and other functions. "Green Protocol is implemented with an eye to reduce the use of objects detrimental to the environment," the district administration said in a release.
As a first step towards the implementation of 'Green Protocol' all the catering service providers and auditorium owners are required to submit a written statement to the District Collector that they would adhere to the Green Protocol by January 13.
The auditoriums and caterers, who adhere to the Green Protocol norms, will receive an appreciation certificate from the district administration. Similarly, religious bodies were given a week's time to announce their backing for Green Protocol.
Further, K Muhammed Y Safirulla said the public ought to regard environment conservation as social commitment. He said religious bodies should spread awareness about prevention of environment through religious classes. The district administration will organise awareness programmes to promote the implementation of Green Protocol in Ernakulam.
Source: newindianexpress.com